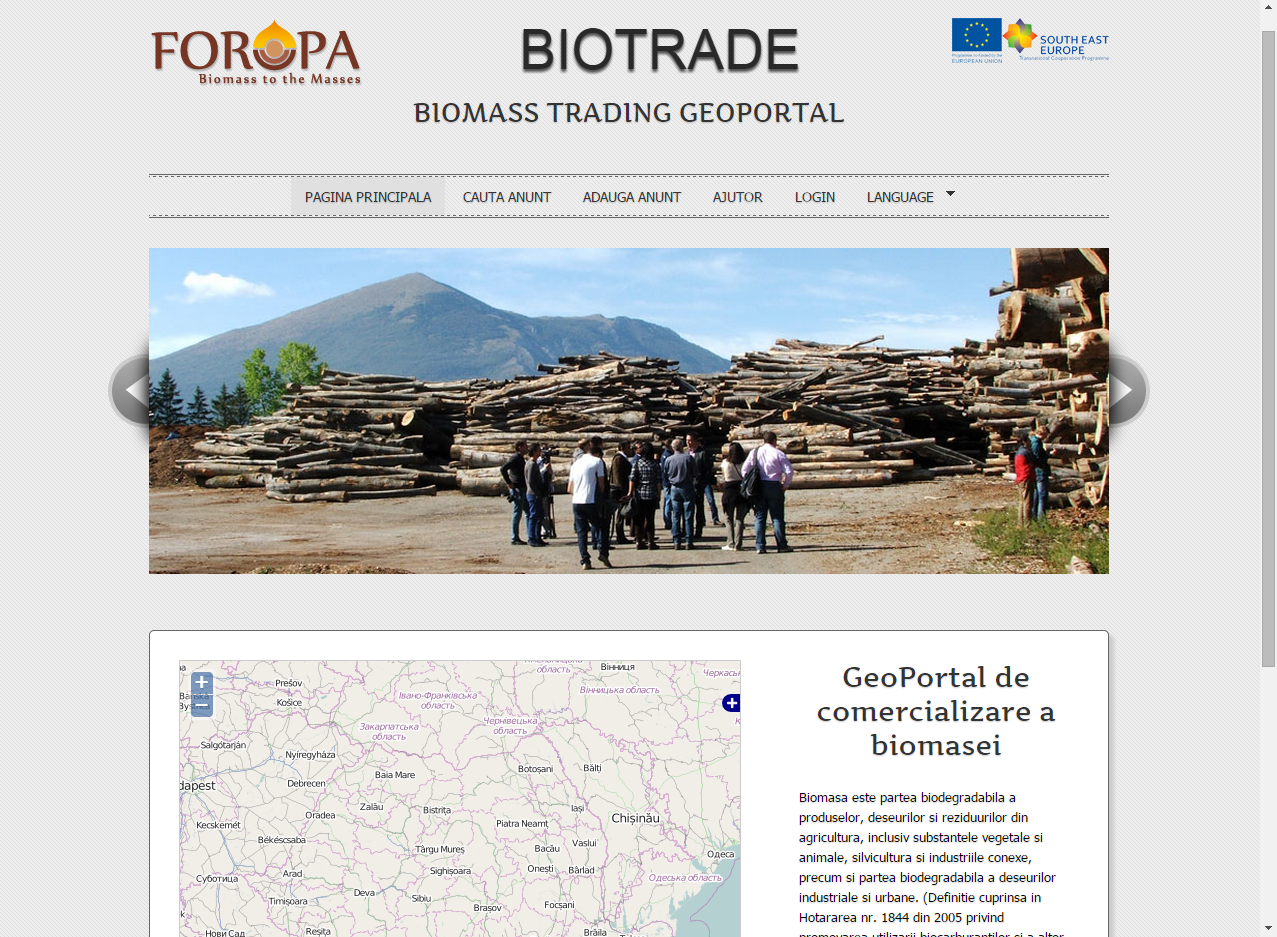 This pilot was implemented in Styria, Austria and in the Centru Region, Romania.
An important issue for establishing sustainable biomass chains is communication. A web platform including web-GIS technology was developed for regional stakeholders in order to increase the visibility and efficiency throughout biomass supply chains represents a very good technical and social environment. This service platform will offer various tools starting with available resource and supplier locations and end with customers. The platform should also provide information on the regional availability of different biomass assortments for energetic use (wood chips, firewood, pellets etc.) at different traders with the corresponding contact and buying/delivery information to the customer.
The platform will provide information on regionally available biomass fuels for energetic use (wood chips, firewood, pellets etc.) for customers and therefore raise the buyer awareness for solid biofuels in the region. The biomass sector for private customers in SSE countries is known for its relatively informal character, which means that only little information for customers is available on where to purchase woody biomass in the region, especially firewood and wood chips. Biomass trades in SSE are currently mainly carried out without the use of the internet. Through this online solution, customers will be able to find out who is the nearest trader for them and also get insight in the market. Both customer and trader will benefit from this platform.
Main aims:
Better information of biomass availability for customers
Promotion of regional biomass fuels and traders
Strengthening of regional identification of biomass customers
Easier access for customers to biomass fuels
Optimization of logistics and storage management
Increase of transparency in the biomass market, better market penetration
Introduce web-based trading to the biomass sector
The core software application, on which both platforms are based on, was programmed by the Romanian partner UNITBV who also provides the necessary web server which can be accessed by all involved partners.The structure of the portal is hosted on a PostgreSQL database.
Functions
The Platform has general features such as a world map with focus on the corresponding region (Romania and Styria) as location support as well as the following user-specific functions:
For customers:
Announcement search function
Location of biomass providers and corresponding contact data
Route planning to provider
Sending of quotes to providers
Rating of traders and comment function
Tips on buying biomass fuels
Help menu
For traders:
Announcement adding functions (Product type, location, quantity, quality, price)
Log-in function
Putting up and editing products for sale
Offering of additional services
Help menu
Expected impact
Increase of transparency in the regional market
Promotion of regional biomass market
Provide information on biomass availability
Improved logistics and storage management
Help developing viable clusters between stakeholders
Open the market to new customers