This pilot was implemented in Western Macedonia, Greece and Centru Region, Romania.
The working environment of timber harvesting operators has changed over the past years. The operator's physical workload has decreased while the proportion of mental load has increased due to the use of modern mechanized harvesting equipment. Mechanized harvesting equipment is increasingly complex, costly, and difficult to operate productively. Industry stakeholders and the general public are demanding improved forestry practices. In some countries there is no professional training for this kind of machinery. Learning‐by‐doing is a common way; this can be dangerous, leading to ineffective work methods and low productivity.
The main goal is to facilitate the training of harvesting companies' operational personnel, giving an overview of the most used and appropriate harvesting systems and the respective safety guidelines. Specific problems and needs, related to operational patterns and other relevant information for an efficient harvesting along with information required regarding safety and precaution measures during harvesting activities are addressed and presented into this training‐oriented guide.
Intended audience
all stakeholders dealing with forest operations: people interested in timber‐harvesting activities ‐ may have only rudimentar understanding of harvesting systems, equipment and training methods;
equipment operators and planners
officers of forestry agencies or other government officials who deal with timber harvesting only incidentally may find information that can help with their job functions. Inexperienced foresters can also use the handbook to broaden their exposure to harvesting systems and equipment use
Available training methods

John Deere: Virtual Reality Harvester and Forwarder Simulator. Operation is based on accurate machine modeling and a versatile easy‐to‐expand PC‐visual system.
The simulator, which can be used in harvester and forwarder applications, is equipped with actual machine control, including a measuring and control system that provides detailed reports on the training session.
A special Simulog‐program makes it possible to compare trainees and follow the learning curve of individual students.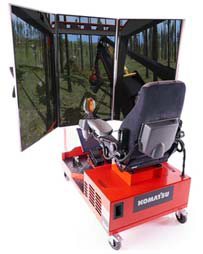 Source: http://www.oryx.se/products/classroomtrainers
Oryx Simulations provides a wide range of professional oriented simulators, starting with those designed for harvesting operations. Typical timber harvesting simulators are developed for Komatsu made harvesters and forwarders.